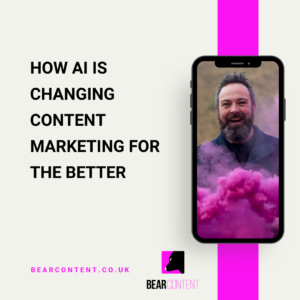 In this new blog post, AI content marketing – what it is, how it works, and how to get started with it in your small business.
As a small business owner, you're always looking for ways to stay ahead of the competition.
You know that content marketing is a key ingredient in your success recipe, but it's hard to keep up with the latest trends.
Well, don't worry – help is on the way!
Artificial Intelligence (AI) is changing content marketing for the better, making it easier than ever to create high-quality content that will engage your audience and help you stand out from the pack.
Keep reading to learn more about how AI can help you take your content marketing game to the next level.
1 – What is AI, and how does it work?
Likely, you have already heard of AI, but you might be wondering about how it works and how it could benefit your business.
AI stands for artificial intelligence, a type of computer software that can learn and make decisions on its own.
Businesses can use AI to automate tasks that would traditionally require human input, such as customer service or data entry.
Additionally, AI can help businesses analyse data to find patterns and improve operations.
While there are some concerns about the impact of AI on jobs, the overall consensus is that it will ultimately lead to increased efficiency and productivity in the workplace.
So if you're wondering whether or not your business should be using AI, the answer is most likely yes!
2 – How AI can help with content marketing
Our favourite AI tool for content marketing is Jasper (previously Jarvis, until Marvel/Disney threatened legal action!)
Jasper is an AI copywriter with various templates covering blogs, videos, social media, and ads.
You enter some suggestions into Jasper and run the AI engine to generate output.
For example, if you need a headline for a blog post about widgets, you could enter a product description and company name, press 'Generate AI content' and choose from the suggestions:
– Our widgets save 50% of your waste
– The best widget on the planet. 99% satisfied customers
– Try our amazing widget for free today!
– Use our professional consultants to get started with our amazing product line.
It's not a perfect tool. We typically use it as a starting point to inspire ideas before further writing and editing.
But increasingly, the output is excellent. For example, take the introduction to this blog post – entirely written by Jasper.
Another brilliant AI tool we use daily is Grammarly, an online writing assistant.
Grammarly catches typos much better than the built-in spellcheck that comes with MS Word or Google Docs.
More importantly, Grammarly makes suggestions using AI to improve the clarity and readability of your copy.
3 – The benefits of using AI for content marketing
AI can help you create more engaging content, target your audience more effectively, and optimise your campaigns for better results. (Yes, Jasper wrote that line for me too!)
Using AI for content marketing certainly helps to speed up the content creation process.
Writer's block is a thing of the past when you use AI tools to generate ideas (and then apply quality control before publication).
Turning back to Jasper for a moment, this AI tool draws on 175 billion parameters to write its copy. That's more than 100 times more than its predecessor (GPT-2) and ten times more than comparable programs.
Because of this deep understanding of published online content, these AI tools are becoming exceptionally good at identifying and then suggesting copy that engages and converts.
AI is an incredible tool that helps companies understand their audience and provide them with more personalised content.
Brands can now craft messages specifically meant to meet each customer's needs rather than providing cookie-cutter responses or advertising spots across broad audiences.
Artificial Intelligence in marketing has become increasingly popular as it provides valuable insights into who customers are so you don't have any blind spots when creating your campaigns.
This approach allows brands both large and small alike to access information about prospective buyers without having direct contact info, ultimately leading to better connection opportunities.
4 – Examples of how AI has been used in content marketing
One of our favourite examples of AI used effectively in content marketing is the online auction platform eBay.
Using the AI tool Phrasee, eBay sent out messages personalised for every customer in the form of a bespoke email headline.
The tool generated thousands of AI-generated email subject lines sent to individual customers based on their interests.
Imagine being able to personalise customer emails, at scale, with minimal human input. We know how important it is to personalise communications in 2022; the mass broadcast approach of the past is far less convincing today, but it's time-consuming to tailor messages to each customer.
Another example we like comes from Chase Bank in the US.
Chase worked with Persado to apply AI to their marketing copy, using machine learning to achieve more humanity in their marketing.
One digital ad (written by humans) read: "Access cash from the equity in your home." Rewritten using machine learning, the version from Persado read: "It's true—You can unlock cash from the equity in your home."
You can guess which version performed better with clients.
5 – How to get started with AI for content marketing
There are plenty of AI tools out there, all designed to support your marketing.
Start by thinking about your current process for content marketing. List the steps.
Pick a single step in your content marketing process and apply an AI tool to that step.
View any implementation of AI within your content marketing as an experiment.
Running A/B tests, for example, putting your human-written copy up against that written using machine-learning, will offer a valuable insight into which performs best with your audience.
I believe that AI will ultimately never replace humans but should instead supplement our work and do much of the heavy lifting, making us better at what we do.
Using AI in the content marketing process doesn't need to be an all or nothing approach. You can start slowly with a single-use case, treating it as an experiment.
But you might discover that introducing an element of AI into your content marketing significantly speeds up content creation, as well as delivers better results.