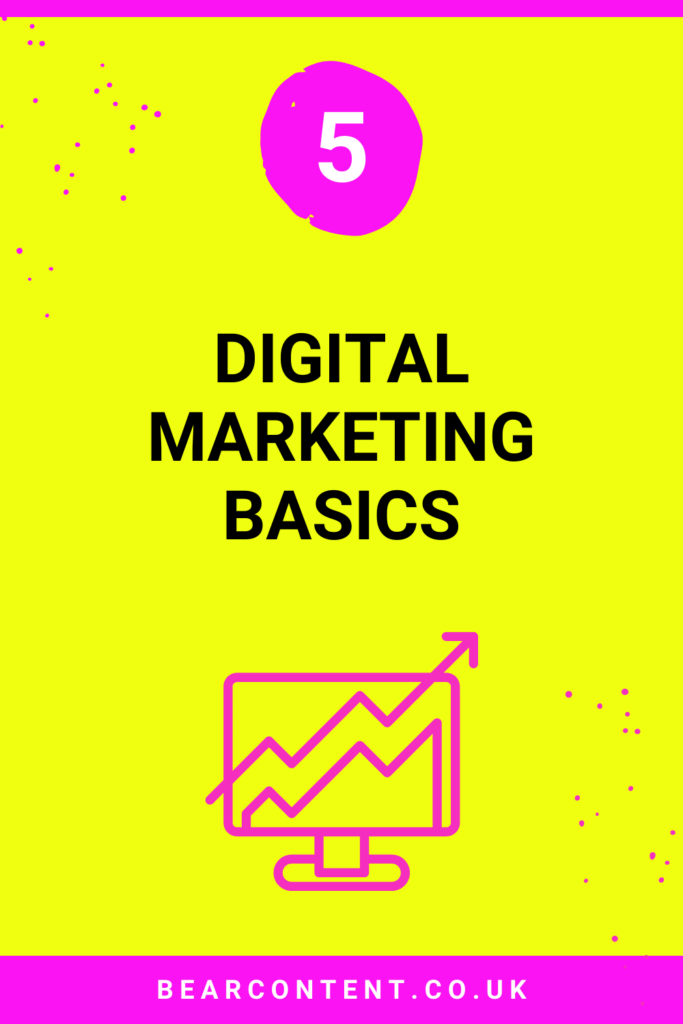 First impressions count when it comes to these digital marketing basics.
You only get one opportunity to make a good impression with your prospective customers.
In this blog post, five digital marketing basics and how to get them right to boost your branding and win more customers.
1 – Customise your favicon
I'm a pretty calm guy, but there are a few things in this world that wind me up.
People who take too long using a self-service checkout, drivers who cut across junctions when turning right, and out of date copyright dates in website footers.
The red mist doesn't quite descend for this next one, but it does get on my nerves each time I spot it.
Your favicon (short for favourite icon) is an image file displaying a small icon associated with your website.
The browser will display your favicon in the tab as a tiny version of your logo in most browsers.
Site-specific browsers also display your favicon as the desktop icon.
An essential digital marketing step is to ensure that you have a customised favicon displaying on your website.
If you have a WordPress website (an excellent content management system), make sure your favicon isn't the default WordPress logo but is set to display your branding.
2 – Use a proper email address
If you want to tell the world you're not serious about your small business, then use a free email account.
Business email addresses ending with a personal Yahoo, Gmail, AOL (Ed: is AOL still going?) or BTInternet needs fixing, fast!
Here's what you do.
Assuming you already have a domain name registered for your business website, you need to 'map' this domain to your email account as a user alias.
Do this, and emails you send in the future will come from your 'proper' email domain, not some freebie.
Here at Bear Content, we use GSuite from Google for our email system and adding a domain to use as your alias is a simple process described here.
It's equally as straightforward if you use Office 365 for your emails; follow these steps.
3 – Include a landline phone number (with local area code)
Similarly, using a mobile phone number as your primary point of contact leaves a bad taste in the mouth of new customers.
New research from the online marketplace Hope and Story found that 61% of consumers believe we should shop local to aid the economic recovery.
A simple way to demonstrate you are a local business? Display a local area dialling code!
Modern technology means you no longer need an expensive traditional telephone contract to access a landline number featuring a local area code.
Instead, you can subscribe to a low-cost VoIP phone system, plugging a handset into the Internet or directing calls via an app on your smartphone.
4 – Consistency is king
Consistency means your target customers are shown messages and branding that help reinforce brand recognition.
When your digital marketing is inconsistent, it can confuse customers.
Ensuring consistency leads to the faster building of credibility, trust and reputation for your brand.
An excellent place to start with digital marketing consistency is documenting your brand standards on a single page.
Make a note of how everyone should present your logo, the brand colours you use, and the font selection for print and digital media.
Take a look across all of your digital marketing assets and note those that are different or dated.
The more consistent you can be with your digital marketing, the better.
5 – Check your copy for typos
We all make mistakes. However, your mission when it comes to digital marketing should be to minimise those mistakes.
Strive for perfection each time.
If a new customer spots a spelling mistake the first time they visit your website or see your brand online, it's bound to leave a poor first impression.
Avoiding typos in your digital marketing is a case of following a process.
Make sure you run a spell-check and carefully proofread your copy. One proofreading tip we like is to read each line of copy from bottom to top.
It also pays to get a colleague to check your copy before pressing publish.
We run everything we write through Grammarly for a final check; it's not perfect, but it usually captures one or two otherwise overlooked mistakes.
***
Our digital marketing only has one chance to make a good first impression.
In this blog post, we shared five digital marketing basics that you can use to give your customers the right experience and win more business.
What are some of your favourite tips for creating a memorable brand? Please share with us on social media at @bearcontentden.