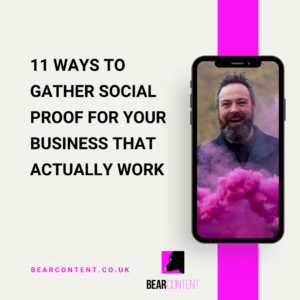 How can you gather social proof to influence your customers?
A variety of factors can influence our decision making.
As small business owners, it's our job to convince prospective customers to buy from us instead of our competitors.
One powerful tool of influence is gathering social proof to create a positive perception of your business.
Social proof works so well because we feel more comfortable making a buying decision when others have already experienced a positive experience.
In this blog post, 11 ways to gather social proof for your business.
1 – Share your numbers
A simple set of numbers can be surprisingly effective.
There is safety in numbers.
If you sell a particular amount of stock, serve a certain number of customers, or get through many obscure accessories, shout about it!
Transparency around your data can help prospective customers feel more at ease before doing business with you.
After all, nobody wants to work with a business that might not be around in a week, month or year.
You don't need to get too personal when sharing your business data. Still, giving prospective customers a sense of your scale and reach can be a very positive reassurance.
2 – Use influencer endorsements
Back in the day, a celebrity endorsement could give your business some serious credibility.
Paying a celebrity big bucks to associate with your brand was a sure-fire strategy for selling to their fans.
Influencer marketing is the new celebrity endorsement.
Working with social media influencers allows you to piggyback on their existing brand loyalty.
We're not talking about 'big' influencers here; it reportedly costs $850,000 for a single Instagram post from Kim Kardashian.
Finding micro-influencers who share your target audience and are prepared to work with local brands can quickly confirm your credibility.
3 – Ask your customers to promote your products
It would be best if you made your customer the hero of your story.
That's a significant shift for many businesses, which automatically assume they are the hero of their story, with their customers playing other characters.
When you involve your customers in promoting your product, you help prospective customers understand the benefits of buying from you.
Constantly communicate the benefits of buying your product or working with your brand from your customer's perspective, putting yourself in their shoes.
4 – Publicise your Net Promoter Score
On a scale of 1 to 10, how likely are you to recommend our services to others?
You have no doubt seen this question before. It leads to what is known as the Net Promoter Score (NPS).
The NPS is calculated by adding up the responses to this question and then subtracting the percentage of detractors from the percentage of promoters.
Any score above 0 means your customers are more loyal than not, but you need a score of 50 and above to get into 'excellent' territory.
Usually, your NPS is an internal metric shared with your team (and possibly suppliers). However, there is a strong case for sharing your score externally too.
Making your NPS public shows you are committed to customer service.
5 – Ask for testimonials
In our experience, the most significant barrier to obtaining customer testimonials comes not from the customers but from the fear of asking.
Testimonials, done well, remain one of the most effective methods of demonstrating social proof.
The usual rules apply; display a full name and preferably a photograph of the customer. Nobody believes in anonymous customer testimonials anymore.
Better still, share the testimonial as a video.
If you can't cover the cost of a film crew and studio setting to film these testimonials, that's fine.
Videos captured on smartphones, selfie-style, work perfectly too. Scroll to the bottom of this blog post for details of a simple way to gather video testimonials.
6 – Collaborate with industry experts
When it comes to gathering social proof, you don't need to go it alone.
By associating experts in your industry with your brand, you show customers you are trusted.
This approach is 'borrowed authority', similar to the press credibility tip below.
And working with other industry experts allows you to get in front of their audience as they get in front of yours.
Look for individuals and brands that are not direct competitors but instead share crossover with your proposition.
You can create content together, maybe a video or podcast interview, and share this with your followers.
7 – Launch a customer referral programme
Satisfied customers are happy to refer others to your business, but you need to give them a nudge!
When you formalise a referral programme, you are telling your customers that you are actively seeking referrals and making the process simple.
Make sure you tell your customers what good looks like in terms of a referral.
You might consider incentivising customers to refer by offering a gift or monetary reward, although this isn't always necessary.
8 – Leverage press credibility
Getting your name and brand featured in the press is a compelling way of gathering social proof.
When a journalist or publication quotes your point of view, you are granted 'borrowed authority' by them choosing you to quote.
It was preferable to focus on national, consumer publications, but the Internet has changed everything.
Being quoted in trade publications is equally as valuable today because the mentions provide valuable online coverage.
Each time you are mentioned in the press, make the most of it!
Share the press mention across your social media channels, email your customer list, and keep press clippings to share with prospective customers.
9 – Develop influential case studies
Each time you complete a piece of work you are especially proud of, turn it into a case study.
Throughout the work, document progress using photos and video, ready to compile when the project is finished.
Make sure you explain the transformation and the benefits coming from your service.
When we read case studies about people similar to us experiencing solutions to our challenges, we are more likely to trust the brand offering the outcome.
Case studies do not have to be recent. Look back through your order book to find possibilities for creating compelling case studies from past work.
10 – Join professional bodies and trade associations
When a business is a member of a professional body or trade association, we are more likely to trust in their ability.
Endorsement from a third-party body gives us confidence on the basis the business will be held to account by their peers.
Start with your local Chamber of Commerce or Trade, and also consider industry-specific bodies.
Display the badges on your website and talk about your membership on social media.
11 – Share your customer list
There's a reason why businesses put details of the customers they work with on their websites.
Social proof comes from displaying that other successful businesses have already placed their trust in you.
When you display customer logos on your website, include a link back to their website, so they benefit too.
***
Social proof is one of the most potent tools for influencing people.
The more social proof you can gather, the more comfortable customers will feel about purchasing your product or service.
Here are 11 ways to get started gathering social proof today – what will be your first step?
Would you like to start capturing video testimonials?
Putting your happiest clients on screen is a powerful way to attach a real-life narrative to your service, delivering that all-important social proof.
We're pleased to offer a new service designed to simplify the entire process of capturing video testimonials.
We'll create a video capture page for you (for free) with a personalised link your clients can open on their smartphone to record their 60-second testimonial.
Learn more and get started today here