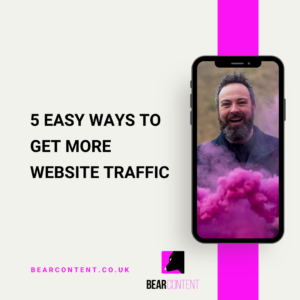 Are you looking for ways to get more website traffic? If so, you're in luck.
In this blog, five easy ways to boost your website traffic levels.
Most importantly, these tips will help you secure relevant website traffic from visitors who are more likely to become customers or clients.
By implementing some or all of these steps, you should see a significant increase in relevant visitors to your site. Enjoy!
1 – Publish high-quality content that is relevant to your target audience
Regular publication of genuinely helpful content is perhaps the essential consideration to get more website traffic.
Why? Sharing content relevant to your target audience gives a good reason for prospective customers to visit your website.
Publishing new content at least once a week means your website becomes a destination for your target audience.
It's excellent for search engine optimisation too! Search engines will rank your website higher in search results if the content is kept fresh.
2 – Optimise your website for search engines
Search engine optimisation is not the most critical consideration in getting more traffic, but it can make a helpful contribution to your results.
A well-structured and optimised website loaded with regularly updated high-quality content is a website that search engines will support.
The main goal for any search engine is to match a question with the best possible answer.
If your website offers the best possible answer to the questions being asked by your target audience, search engines will reward this quality with traffic.
Use a WordPress plug-in like Yoast SEO to analyse and improve each page and post on your website.
3 – Promote your content on social media
If a tree falls in a forest and no one is around to hear it, does it make a sound?
Philosophy aside, the same question applies to your website content.
If you don't share your content on social media, it's unlikely your target audience will ever find it.
Don't simply share links to your content on social media – give your followers an excellent reason to click through to your website.
And keep in mind that the mission of social media platforms is to retain their audience.
Consider creating and sharing native content on each social media platform so your audience doesn't need to click away. The platforms will reward you with much higher engagement.
4 – Find lots of places to share your website address
It's a given that you direct people to your website in the signature of each email you send.
Rather than asking those you email to click through to your website homepage, what about directing them to a specific page on your site, containing an offer or incentive?
Where else can you promote your website and a particular landing page?
Click To Tweet
Add a link to the profile on every social media platform you use. Look up local directories and get it added on there too.
If you have a physical location for your business, display your website address on any signage. Place a notice by the till with a link to your latest blog post or a special offer landing page.
Consider branding your car with a well-designed wrap, and put your website URL there too so curious motorists can learn more.
5 – Use paid advertising to reach a wider audience
Spending money on paid online advertising can be highly effective or a colossal waste of your marketing budget.
Plan your offer and call to action before committing to any paid advertising on Facebook or Google.
Never direct those who respond to your social media ads to the homepage of your website, but instead to a specifically tailored landing page that relates to the interest piqued in the advert.
And consider any click from an online advert as the start of a relationship, not the end.
Use online ads to fill your marketing funnel, and then execute a series of steps to nurture the relationship before eventually pitching for a sale.
***
So there you have it – five tried and tested methods for getting more website traffic.
These techniques are actionable steps that you can take today to start seeing an increase in visitors to your site.
What will you do first?