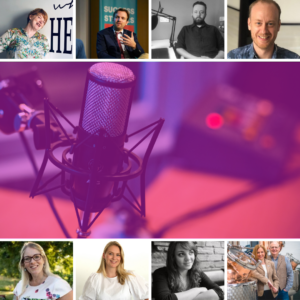 There's nothing like the sound of people chatting away on a podcast that makes the day or your car journey fly by!
James and I are lucky enough to listen to a wide range through our day job of podcast production. We all listen to various podcasts for pleasure too!
As the year draws to an end and to follow on from Martin's top photographs blog, we decided to pick out our top podcast episodes from this year, from a range of our clients.
When we started chatting about it, we realised pretty quickly it is much trickier than you think as we have produced well over 100 episodes this year, pulling in more than 100,000 listeners!
AND each guest has their own inspiring story and resonates with us all differently.
However, after much discussion, these are the ones that stand out to us; the episodes we wanted to share with you that resonated the most and perhaps have inspired us in some way throughout the year.
In no particular order:
Carol Glover
It's pretty rare to find this but everything 'The Maverick Maker' says in Episode 41 of Island Influencers makes so much sense.
Have you ever used the phrase gut reaction? We have and are firm believers in listening to our guts and having good gut health (now that's another blog for me entirely!).
Carol highlights that "we have almost as many neuron receptors in our gut as we have in our brain."
Carol is such an inspiring speaker with great wisdom.
She talks about the importance of intuition – "that idea that you're sick to the stomach." Carol clarifies that you must listen to it because it's trying to tell you something vital.
It could be bad or good, but gut feelings all have value.
Peter Vanham
Martin's conversation with Peter Vanham from the World Economic Forum, for the Informed Choice Radio podcast, was also impactful for the whole Bear Content team.
We know the global economy is changing, with those changes accelerated by the pandemic.
What Peter sets out in his book, and throughout this conversation, is a vision for a global economy that works for progress, people and the planet.
Stakeholder Capitalism explores why things need to change and how we can create this new model for the global economy.
Here at Bear Content, our local and sustainable credentials are incredibly important to us, and this conversation resonated, despite some of the silly conspiracy theories that have sprung up around the topic!
Chris Kissack

James is a self-confessed console geek and has been a passionate gamer since 1995, when his Dad bought him the first PlayStation. I'm a Mario Bros and Tetris fan from when my brothers had a SNES and Gameboy.
Historically, gaming has been referred to in derogatory terms, often being deemed juvenile or childish.
In this Island Influencers episode (64), Chris goes to great lengths to demystify the world of eSports, stamp out the stigma and give us a peek behind the curtain of this modern profession.
His son has a Fortnite coach!
Will Rainey

With James taking his first tentative steps into the wonderful world of property ownership in 2021, he found out the hard way that his knowledge of money, mortgages and 'monthly savers' was minimal!
Whilst editing this episode of Informed Choice Radio, he couldn't help but wish he had a copy of Will Rainey's book 'Grandpa's Fortune Fables' in his life growing up.
Will is teaching kids the basics of various money-related topics that they will need to be financially secure when they become adults.
In this episode, Will mentions one fable where he equates the concept of debt to invisible slime, and it's stuck with James, as a 28-year-old man, ever since.
Inspired, informative, interactive (and illustrated), this is the kind of book that every school in the country would have a copy in an ideal world.
I'm now going to read the book with my kids!
Stefanie Kerwin

I've mentioned Stefanie before, but she has to make it onto our list because she offers some fantastic life advice for us all.
Stefanie has lived with significant health issues since birth. At 11, she was told she most probably couldn't have children. Her son is now 10!
She is a living example of her work.
Editing her podcast back in March came at quite a stressful time, and Stefanie's words infiltrated our lives and stayed there.
She reminded us to stop and breathe and break free from limiting beliefs. Something we have reminded ourselves and each other of regularly.
Hannah Thomson AND Vicky Wilson

These two episodes have found their way into our highlight list for one sad reason.
James' Nan sadly passed away after a short battle with cancer in August. The loss was sudden and devastating.
No stranger to the loss of a loved one herself, Hannah Thomson watched her Gran deteriorate quickly after a dementia diagnosis and was struck by how little we do to try and encourage an active lifestyle for those in their early retirement years.
Through her research, she found that money is often a barrier to people staying active and healthy as they age. This lightbulb moment forced Hannah's hand, and she created The Joy Club, a membership site that offers discounts on a wide variety of activities, enabling retirees to have a more joyful and social retirement.
James spends regular time with his Grandad and took him to see West Side Story for his birthday (and they both had a blast!) However, similarly to Hannah, it struck a chord with us that many retirees out there aren't so fortunate when they certainly deserve to be. That's why The Joy Club deserves a spot on our list.
Keeping with the theme, Vicky Wilson and her mother spent a total of six weeks trying to close down her grandmother's accounts after she passed away in 2019.
Having repeated the phrase "my grandmother's dead" countless times (and promising to alleviate the need for others ever to have to do the same), Vicky realised there was a gap in the market.
When someone dies, they can leave behind around 15-20 accounts to be closed. The closure of these accounts becomes the responsibility of the loved ones left behind. Meaning that while they're already grieving for the person they've lost, they also have to face the painful and stressful account closure process.
So she and her mother founded Settld, a free private sector "Tell Us Once" service that aims to save other families from facing the same unnecessary difficulties, as they communicate with over 750 private companies on your behalf.
In the wake of James' Nan's death, James saw how difficult it was for his Grandad to deal with the accounts she left behind.
Paul and Tiffany Kerruish
We loved producing this episode (Island Influencers, 62) as their story fascinated us creatively/professionally and also I'm rather partial to a G&T!
As marketers, we agree the story behind their brand is brilliant, combining a lovely Manx folklore story and Julia Ashby Smyth's artwork lures you in. Paul and Tiffany as a couple, raising a family, really inspired us with their entrepreneurial spirit!
They open up about the, at times, the terrifying impact of Covid and lockdowns on their rapidly growing business.
They explain how Fynoderee voted immediately into producing World Health Organisation-approved hand sanitiser 'Fynitiser' for charities, businesses and organisations, and the Island's essential services.
They highlight the importance of community and how resilience has gotten them through. They confess their work/life balance is not quite there, but fortunately, they love what they do!
Many of the podcast guests point this out. Love the work you do; this is our continued purpose for 2022.
We are incredibly proud of the content we have produced this year.
We are passionate about working with like-minded clients, using our expertise to its full potential and most of all enjoying the work that we do so that work doesn't feel like work!