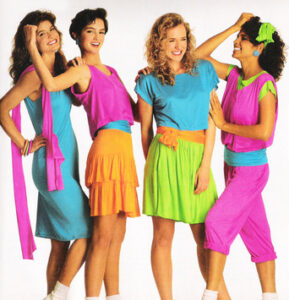 The story goes that, not so long ago, pink was for boys and blue was for girls.
A 1918 trade publication confirmed this was the 'generally accepted rule' because pink was 'stronger' and blue more 'delicate and dainty (think the Virgin Mary).
However, factors such as the popularity of blue sailors' suits for boys and the mass availability of fabric dye put an end to all children wearing only white. These factors meant that, by the 1950s, the colour-gender divide was established.
I have grown up with two brothers, and I had clothes and bikes handed down from them.
By aged 10, I craved to wear floaty dresses and have a pink Raleigh bike with a basket on the front! I also had pink wallpaper in my childhood bedroom with white clouds.
I felt safe in that space, and my love of pink, I think, started from there.
Oh, and I also love flamingos!
Research in 2018 found that items such as pink pens and razors marketed at women are almost 40 per cent more expensive – the so-called 'pink premium' or 'pastel tax' – than those marketed at men.
But how does the colour pink make us feel?
According to surveys in Europe and Asia, pink is a paler shade of red associated with charm, politeness, feminity, and romance.
Pink is seen as powerful. Pink increases the heart rate and blood pressure of a person and is known for relaxing your mind.
The neon pink in our branding is a nod to my love of the 80s and my youth!
It has been told that Victorian gentry donned pink to mark the end of the week.
I would wear pink every day if I could. It makes me feel happy!
Pink in our brand is an excellent contrast against the black bear; eye-catching and fun.
It symbolises a fresh start, just as it did in the 80s. The neon pink perfectly symbolises the rise of optimism for us as a small business and all over the country after such a challenging year.