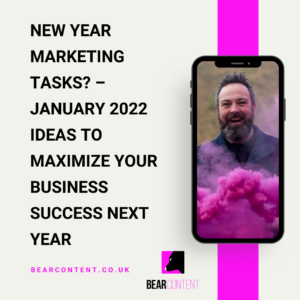 What are the essential New Year marketing tasks to tick off your checklist in January 2022?
With the New Year rapidly approaching, we believe these six marketing tasks are critical to clear in the first few weeks of 2022.
Get these done, and you will build a solid foundation for your marketing success next year.
1 – Crunch your numbers
What does your business need to achieve next year to meet your definition of success?
The best marketing is supported by data. Do you know your marketing numbers?
Assuming you have a (profitable) turnover target for your business in 2022, you can work backwards from there.
Calculate the amount of that turnover target covered by recurring revenue, which leaves you with the new income you need to generate in 2022.
How much is each new customer or client worth to your business?
Divide the new business target by the average value of each new client to calculate the number of new clients you need to engage with next year.
Now, what's your typical conversion rate from new enquiry to engaged client, or customer walking through the door to buyer?
You can apply this conversion rate to your customer or client target to understand how many enquiries or prospects you need to support your business goals next year.
Keep these numbers at the front of your mind as you develop your marketing plan for 2022.
2 – Update your photography
When was the last time you updated the photos you use on your website and social media?
Keeping your photography updated is an integral part of your brand presentation.
Dated photography gives your existing and prospective customers a poor impression of your business.
Schedule a session with a professional photographer to capture new headshots for every team member.
While you have the photographer, ask them to capture a series of candid photos of your team at work.
Your website and social media should feature 'real' rather than stock imagery wherever possible.
3 – Draw up a content calendar
What content will you be creating and sharing next year?
If drawing up a content calendar for the whole of 2022 is too daunting, start with January and go from there.
We like to brainstorm a series of overarching content themes that evolve during the year before pencilling in specific pieces of content for publication each week.
You can keep your content calendar relatively flexible, so you can respond and react to relevant news as it happens.
But having a content calendar drives consistency into your marketing efforts, and gives you clear goals in terms of content production, that might otherwise slip by the wayside when things get busy.
4 – Update the copyright date on your website!
Out of date copyright dates in website footers are among my biggest bugbears.
As soon as 1st January 2022 arrives, check that your website copyright date says 2022!
By leaving this tiny element of your website in the past, you show eagle-eyed visitors that you lack attention to detail.
If the copyright date on your website is old, what else on the site have you failed to update as time moves on?
5 – Review your analytics
What was your most popular website content in 2021? How did visitors find your website?
Assuming you have Google Analytics running on your website (and you really should!), these reports are a goldmine of valuable information.
Identify the top ten most popular pieces of content you published in 2021 and make a plan to create related content in 2022.
Understanding the search terms your website visitors are using to find your website (and its content) allows you to create more of the same. Repeat winning formulas.
Also, use this analytics review as an opportunity to revisit and refresh your most popular website content.
Where missing, add strong calls to action to your most visited website pages.
6 – Cleanse your mailing list
When was the last time you reviewed and cleansed your mailing lists?
We invest a lot of effort in capturing email or postal addresses for our mailing lists, in a GDPR compliant fashion, of course.
But, over time, some of those contacts become less engaged with our communications.
An effective email newsletter mailing list is one with a high level of engagement, so most of those you are emailing are opening and reading your emails and clicking relevant links.
Don't be afraid to cleanse your lists by removing those who have lost interest in what you have to offer or find a way to reinvigorate your relationship with those less engaged readers.
***
What's on your marketing to-do list for January 2022? Is there anything we can do to help?
Bear Content creates compelling content that will engage your audience, build trust, drive traffic and generate leads – all while you focus on growing your business.
We save you time so you can do what matters most – running your practice or growing your business!
I would love to chat. You can schedule a no-obligation Zoom call in my calendar so we can share ideas for creating compelling content that will bring you closer to your business goals in 2022.