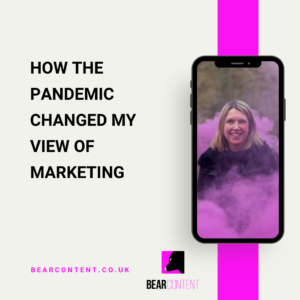 It's almost two years since the first national lockdown.
While preferring to look forward, this anniversary prompts some reflection.
We are the first to admit that, as a business, we suffered from the moment the pandemic landed on our shores.
Many of our clients put work on hold.
For those that continued, it was challenging to juggle workload with Covid concerns, remote working, and critical team members on furlough.
But the experience did open our eyes, and we saw first-hand where an investment in content marketing was appreciated, especially during such uncertain times.
Reflecting on those strange times, how did the pandemic change your view of marketing?
Reading the 2022 Marketing Week Career and Salary Survey, we learn that "marketing is becoming better appreciated for its strategic role in business, suggesting marketers' contribution during the Covid crisis and wider effectiveness push is paying off."
Marketing has gained a more significant strategic role in businesses over the past 12 months, according to almost a third of the respondents to the survey.
The survey reveals that 14.8% say marketing is better appreciated, while 13.4% claim marketing is more influential.
Only one in 10 say marketing is not seen as a priority for investment, with only 3.3% describing marketing as being less appreciated over the past year.
When asked how confident marketers feel in their role and broader impact on the business compared to last year, 17.5% say they feel 'much more secure' and 36.2% 'somewhat more secure'.
It's undoubtedly good news that marketing may be gaining strategic prominence, and we are always pleased to see evidence of this direction.
The survey results got me thinking that over the more than 20 years I've worked in the marketing profession, I've had dealings with some business owners, colleagues (outside the marketing department, obviously!) and a variety of clients who have a somewhat skewed perception of marketing.
Those with a skewed perspective think you throw a few ads out there, add a few social media posts, and that's a successful campaign.
Oh, if only it were that easy! (Although if it were, I probably wouldn't have a job!)
So what CAN marketing do for you?
Done well, marketing will increase your sales — no question about it. You need to be marketing if you want to grow your business.
However, remember this; marketing will NOT result in overnight success.
Marketing is about slow growth, building on last week's success and forgetting about last month's failures.
Marketing is about frequency — about your target market seeing your offer over and over again until they're finally ready to buy.
It requires dedication and consistency to get results.
Keep building on it. Consistency builds trust and credibility.
Plus, your existing customers will also respond to that frequency. You keep your business front of mind (so they don't drift away to a competitor), and it will help reinforce their trust in you too.
Marketing is about working hard, and it is a commitment.
There's no getting around it. Success means putting in the time and energy to market yourself or your business continually.
Many talk about it, but they somehow never seem to get around to it when it comes down to doing something.
You can also pay someone to help you with it, but any approach means someone, somewhere, putting in the hours to market your business.
It is something else to keep in mind; it can't be just your designated agency making an effort. The effort works both ways.
If you have a business, then you have no choice but to commit to marketing consistently until the day comes when you decide you don't want a business anymore.