The reopening of non-essential retail and outdoor areas for hospitality businesses in England was much anticipated.
Sadly, I opened the curtains yesterday morning to the sight of heavy snow in Surrey.
But our restaurant owners, publicans and punters are made of stern stuff. It would take more than freezing temperatures and a blizzard to keep them home.
My friend Alp, who owns Yangaz Bistro Grill in Cranleigh, put his tables and chairs out in the snow and welcomed his first customers; a couple of gentlemen eager to meet for a full English breakfast.
Snapping a photo and posting it on Facebook, Alp captured a special if comedic moment.
Always eager to support my friends and local businesses, I shared the photo on Twitter:
And then things began to get interesting.
Within a couple of hours, several of my followers had shared (retweeted) the photo. Some of my followers in the world of journalism and marketing shared it.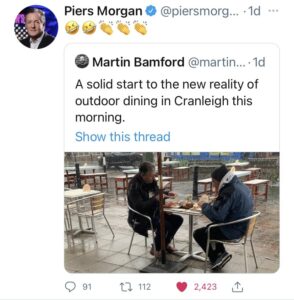 And then Piers Morgan retweeted my tweet to his 7.9 million followers.
I started getting requests to use the photo from newspapers, led by the Daily Mail and quickly followed by the Mirror, Metro, Daily Star, Guardian, Telegraph and others.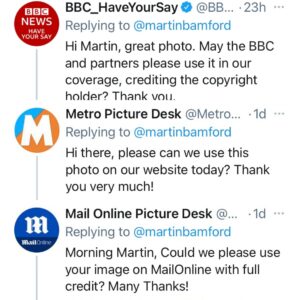 After checking with Alp that he was happy for the photo to be used in the press, and asking each publication to credit his Bistro, the image appeared as the top story on Mail Online and in a prominent position on other news websites.
The BBC got in touch to ask for permission to use it too.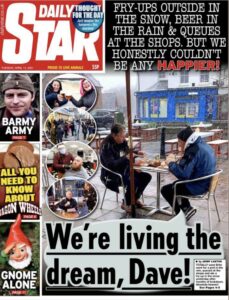 Waking up this morning, the photo was on the front page of the Daily Star and was shown on BBC Breakfast. It was published in the Daily Mail, Sun, Telegraph and others.
My original tweet has 20,999 likes, 2,245 retweets and 275 replies, at the time of writing.
The photo has become a meme, widely shared both here in the UK and overseas. A friend in Germany sent me a copy from a national newspaper there.
It was a surprising turn of events, for what was a hastily written and (at the time) fairly unremarkable tweet. But I'm sure we can learn a few lessons.
You don't need professional photography to go viral
The photo at the heart of this virality was quickly snapped using a smartphone.
While I'm a Certified Professional Photographer and a huge advocate for using quality photography in marketing, there is something urgent and authentic about sharing a camera phone.
Use the tools you have to hand.
No hashtags
This was not a carefully planned or executed tweet. In truth, I may have shared it while in the bathroom on Monday morning!
Reflecting, I'm pleased there were no typos and the tweet contained nothing controversial.
Speed is everything
Outdoor hospitality reopened in England on Monday morning. It was snowing first thing in the morning.
There was a great deal of pent up excitement around the reopening of these venues, with people keen to meet friends to enjoy a pint (or a full English!).
Shared a couple of hours later, and the photo might have disappeared into obscurity.
Great content needs an audience
When originally posted in a couple of places on Facebook, the photo did not attract much in the way of engagement.
Shared on Twitter, it was quickly shared and distributed to a much (much!) wider audience.
It helps that I have a decent size following on Twitter (circa. 11,000 followers) and that some of these followers work in the media and marketing.
It definitely helped when a number of celebrities, including Piers Morgan, started sharing the tweet.
It most definitely helped when news outlets ran the photo on their websites, and again this morning in print publications and on television.
You can't control it
Once posted, there is little you can do to control or influence the path of a viral post.
By mid-morning yesterday, my notifications column on Tweetdeck was scrolling at a decent speed. I couldn't keep up with the replies and requests.
At lunchtime, I hid the notifications and only occasionally checked for messages from journalists.
But I didn't worry about replying to comments, correcting errors or trying to boost the reach of the tweet. Once it started, it was out of my hands.
You have to be in it to win it
While virality with content is virtually impossible to guarantee, you can only experience content going viral if you publish content in the first place.
The Bear Content team are carefully unpicking the factors behind the popularity of this particular tweet, including those mentioned in this blog post, to understand how we can improve the prospects for our client content in the future.