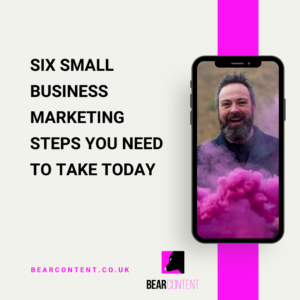 As a small business owner, marketing is priority number one.
Without a comprehensive and structured marketing plan (well-executed), you are unlikely to meet your small business sales goals.
But marketing can be tricky! Where to start? What to do so you get the best possible results? How to assess value for money when spending on content creation, advertising and consultancy?
We believe there are six marketing steps you should take to dramatically improve the chances of success with your marketing.
1 – Draw up your customer avatar
Who is your ideal customer? Close your eyes for a moment and picture them.
Until you clearly define your ideal customer, capturing this information as what we call a customer avatar, it can be an impossible task to draw up a winning marketing plan.
As a small business owner, you know your customers.
Take a moment to think about the attributes of those customers who are most profitable, most straightforward to do business with, and (yes) fun to deal with!
The more you know about your ideal customer, the more targeted your marketing efforts are. You can speak directly to their unique challenges and needs, demonstrating that you understand their issues and provide a compelling solution with your goods or services.
Ask yourself about the characteristics of your ideal customers, including their geographical location, their demographics, the other brands they love, and where they choose to hang out.
We encourage small businesses to document these ideal customer characteristics, creating a fictional customer avatar.
Each time you carry out some marketing activity, relate it to your customer avatar and ensure that you speak directly to them.
2 – Sell the sizzle, not the sausage
Why should customers do business with you instead of your competitors?
When we make buying decisions, we tend to focus on a combination of rational and emotional benefits.
Think about some of the brands you love; what makes them unique or connect with you at an emotional level?
Before leaping into any marketing campaign, spend the time to understand the benefits to your customers of what you are selling.
It's simple to see the functional value of buying a particular product or service, but the benefits are often hidden a layer or two deeper.
One sensible approach is to ask your customers how they feel when buying what you sell.
You can also conduct competitor analysis to understand why your product or service delivers these benefits, but theirs do not.
With these values and benefits identified, you can highlight them in your marketing and make these the core of your messaging.
3 – Go where your ideal customers hang out
We are not a homogenous bunch, as humans.
Everyone has different preferences, hobbies and interests, and you will find different people in different places.
Referring back to your customer avatar, where do your ideal customers hang out?
Identifying the best channels for communicating with your ideal customers is the difference between getting results from your marketing spend and throwing money down the drain.
In this modern world, we need to understand the ideal locations for customers, both offline and online. For example, there's a real variety in terms of the social media platforms different customer types use.
Despite the ease and convenience of digital marketing, don't neglect the opportunities with more traditional marketing channels. As you will often hear me saying, make sure you zag when others zig.
4 – Create compelling content
What message are you trying to get across to your ideal customers?
Content marketing should form the backbone of your marketing efforts in the 21st century, creating compelling content that speaks directly to your ideal customers and the challenges they face.
We love several approaches when it comes to content marketing, including answering common questions to provide helpful content while positioning yourself as a subject matter expert.
But don't get stuck in a particular rut with your content; be brave and experiment with different approaches.
With a growing volume of digital content on various platforms, you need to crack the formula to produce a lot of content (repurposing pillar content helps here) and create excellent content that stands you apart from the crowd.
At all times, aim for consistency with your content and tone of voice, consistent with your brand appearance and values.
Don't expect to be an overnight success with content marketing, but the results we see building up over time are always impressive.
5 – Just do it
Ideas are easy; execution is everything.
You can have the best ideas ever conceived in the history of marketing, and they will attract zero customers if poorly executed (or not implemented at all)
With your ideas in hand, draw up a simple strategy to convert those ideas into compelling content and share it with your ideal customers.
By this step in the process, you already know your ideal customer, the benefits of buying what you're selling, and where to share your content.
Just do it. Get your messages out there in the world.
6 – Rinse and repeat
With a marketing campaign launched, an often overlooked step involves reviewing what works well and what could be working better.
Take this time to reflect, celebrate your successes, and tweak your failures.
After some refinement, a marketing activity that didn't work well the first time might be more successful with another attempt.
Analytics is your friend; at the end of each month, look at your most (and least) popular content and how your customers are finding your marketing messages.
Relate your digital and traditional marketing activity to sales; you need to determine which actions lead to customers walking through your door or picking up the phone.
***
We hope you found the six steps to marketing success helpful.
Which of these six marketing steps has been most challenging for your company? What help do you need to turn these into reality?
Our small team of content creation specialists are here to offer a free consultation and brainstorming session, where we can assess what's working and not working with your current content marketing plan.
If you're a business in the Surrey Hills, get in touch to schedule a Zoom call at our expense and without any obligation.