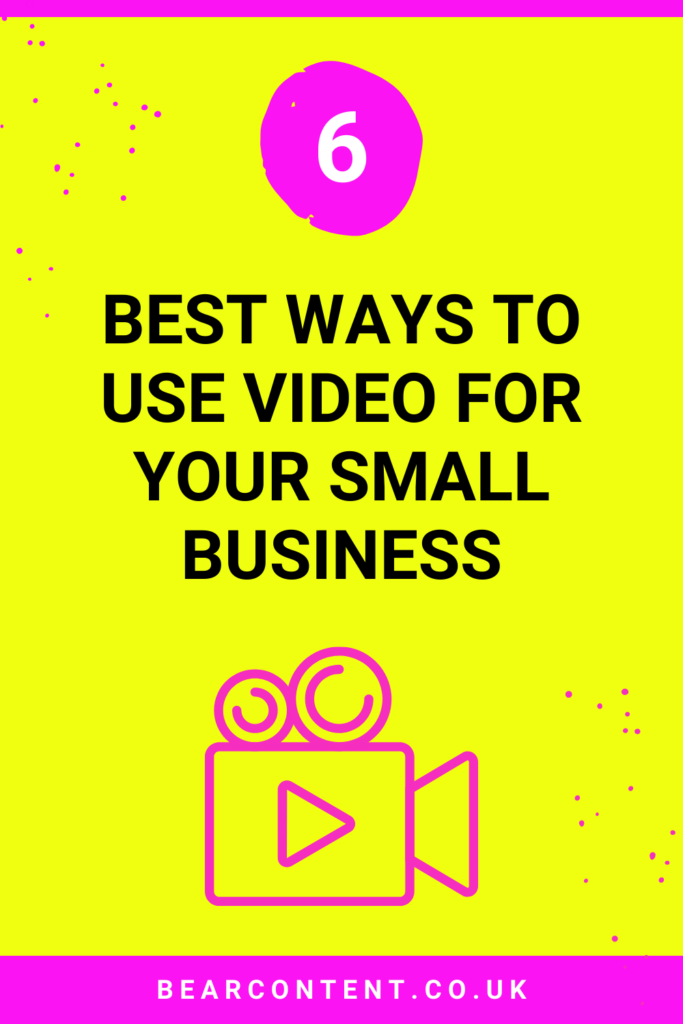 Videos are a seriously underused marketing tactic.
In this blog post, 6 of the best ways to use video for your small business.
1 – Make a video about your company's culture and values
How do people view your business?
Your culture and values are essential to your brand, but communicating these elements to the outside world can be tricky.
We know that people buy from people they like, so sharing examples of your company culture can help with this process.
When it comes to recruiting new team members, sharing your company's culture and values will allow you to attract the most suitable candidates.
Think of this video a little like an online dating profile. Give your prospective customers and future employees a taste of how you act, feel and behave.
What about a video showing how your team spend their time outside of work? Or talking about random facts from their time with the business?
2 – Create a how-to video to help customers do something they otherwise would have difficulty doing on their own
Content marketing should be helpful. Video is a powerful way to share educational and informative content.
When you share content that helps your prospective customers, you create a natural affinity with them and make them more likely to engage with your services.
Start by asking your customers about any challenges they face. Ask your team to keep a note of the questions they are asked.
Create a series of short videos answering common questions and showing customers step-by-step how to do things connected with your products or services.
3 – Record testimonials from your happy customers and share them with the world!
Social proof is another powerful marketing influence tool.
While written customer testimonials can be very effective, video versions are far better.
When we share a video testimonial, it comes across as more authentic and realistic than mere words, even if a name and photograph accompany those words.
Often, the most significant resistance to getting a satisfied customer to appear on camera is in our heads. Just ask! The worst thing that can happen is they say no!
You can capture customer testimonials in a professional studio setting or ask them to record their own videos, selfie-style, ready for you to edit and share.
4 – Interview experts in your industry and ask them questions that will benefit your audience
Video content to boost your business doesn't only need to come from your team. You can rope in external experts too.
Conversations with specialists in your field can give you an edge over the competition, as well as position you as an expert.
By collaborating with others who are already well established in your sector, you can grow your influence while offering them a platform.
Each time you interview an expert, you gain access to their existing followers, who are more likely to engage with the video content.
Likely, you will already have relevant experts in your network who will be willing to chat on camera. Just ask!
5 – Share videos of employees at work
We love to see what happens behind the scenes.
Creating video content showing the day-to-day activity in your business might feel mundane, but this peek behind the curtain will be attractive to many.
Behind-the-scenes video content is naturally informal, given a real sense of what your business is really like.
This style of video allows you to share the journey rather than the finished product.
Get it right, and your audience will support what you are striving to achieve.
6 – Use chalkboard animations to show ideas that you can't communicate any other way
We know that not everyone enjoys being filmed. There is an alternative.
Chalkboard or whiteboard explainer videos allow you to get your message across in an engaging way without going to the whole expense of video production.
You (with our help!) write the script before key concepts are animated and a narration recorded.
The result is an engaging video explaining a complex or straightforward topic without ever needing to stand in front of a camera.
***
In this blog post, we've shared six of the best ways to use video for your small business.
From using them to share your company culture to building social proof with testimonials, these methods will help you boost engagement with customers and prospects alike.
We hope that one of the ideas here has inspired you enough to get started on creating some videos today! Which video will you begin with?