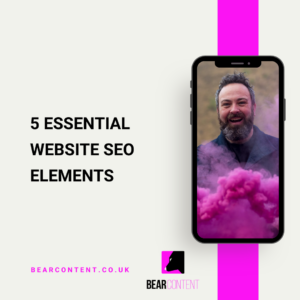 In this blog post, five elements to optimise on your website to boost your Search Engine Optimisation (SEO).
SEO is sometimes seen as a 'dark art'. But getting the basics right and following SEO best practices is essential when creating and maintaining your website.
When you build a website in WordPress or one of the other popular content management systems, many SEO basics are baked into the settings.
Adding a powerful (free) plugin like Yoast SEO is an effective way to gain more control over your site SEO elements, avoiding any silly mistakes.
In this blog post, 5 SEO elements to optimise on your website.
Optimise the page title
Your first opportunity to influence what Google and other search engines see is your page title.
Optimise your page title to give website visitors and search engines useful information about what to expect from that page. 
The page title is your chance to add keywords that describe your business and services rather than your business name.
You can use up to 60 words in the page title; anything more extended, and the search engines can't read it in full.
At the same time, resist the temptation to 'stuff' your page title with multiple keywords – one per page is a good rule of thumb.
Don't (please!) do what we see countless times on websites that are poorly optimised, and start your homepage page title with the word 'Homepage'. What a wasted opportunity!
Optimise the meta description
Page descriptions are an essential part of your SEO too.
The sweet spot for a meta description is between 130 and 154 characters. 
Use fewer or more characters, and Google is likely to choose their own description for your site instead of the one you present.
While meta descriptions are not thought to influence search engine rankings directly, they still matter, especially regarding the visitor experience. 
Think of your meta description as the preview that will hook a prospective website visitor and encourage them to click through to your site.
Give each page on your website a unique meta description and include your chosen keywords in the description.
Optimise the H1 tag
Your H1 or header tag is the main title on the page itself. 
Only use one H1 header per page; add two or more, and it will confuse the search engines.
When writing your H1, make it the same (or at least very similar) to your page title. Use your chosen keywords for the page, and keep it short (simple).
Optimise images
We're a massive fan of using appealing photos on websites. 
As well as looking great (!), images are another opportunity to boost search engine rankings.
When including images on your website, make sure you give each one an ALT tag, describing the image and naturally incorporating your chosen keywords.
For maximum SEO juice, rename the image file name using your keywords, and update the image description.
Optimise other factors
SEO is about much more than filling in the correct fields in Yoast and optimising the various tags on your website correctly. It would be best if you got the basics right too.
Getting the basics right means installing (and correctly configuring) an SSL certificate on your site. 
Google and the others penalise insecure sites, and website visitors are unlikely to click through warning pages to see your site when an SSL certificate is absent.
Page loading time is another, often overlooked, SEO factor.
If your website is slow to load, impatient visitors will go elsewhere, and Google is less likely to send you traffic.
Fast website loading is all about using a decent host (never scrimp on website hosting), preferably using a Content Delivery Network (CDN). 
It's also about optimising website elements; if your website visitor needs to load a 20MB photo to see your page, they won't wait around.
There's a lot more involved with good SEO, but get these five basics right, and you will be a big step ahead of your competition.