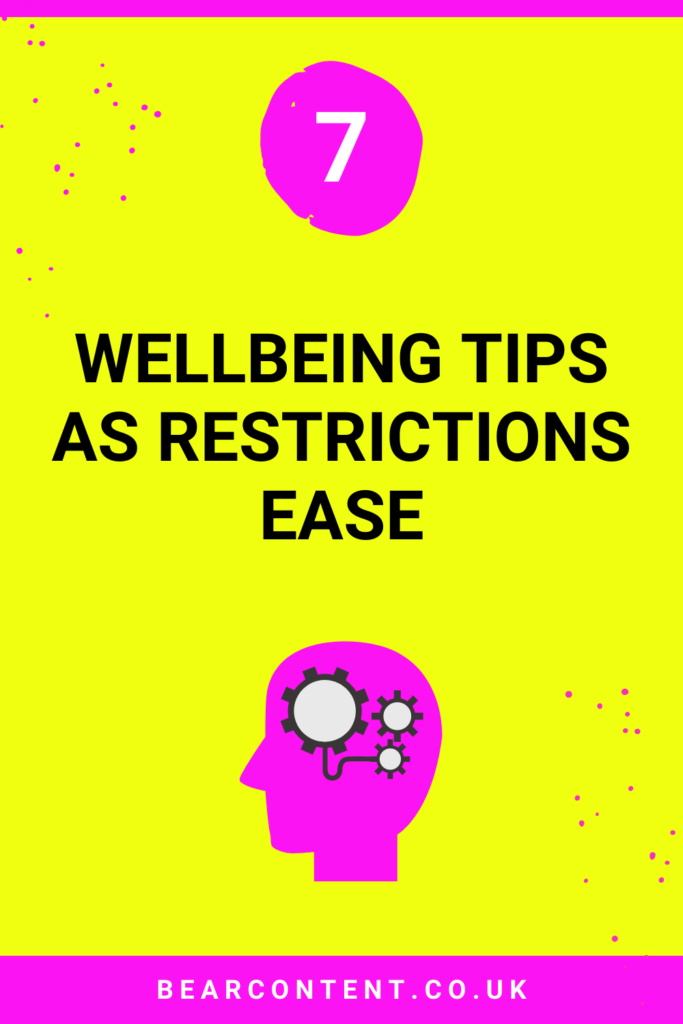 We have wellbeing tips for you in this blog post!
Restrictions are lifting, half term is looming, more people are mixing again, we are allowed to hug again, and we can be inside different homes. 
Whether or not we need to return to the office, and the Indian variant is in the headlines constantly. 
Are you feeling a bit overwhelmed by it all? You aren't alone. 
Even without a pandemic in the mix, life can be pretty complicated. 
Over the last week, I've been having many conversations with friends, family (including teenagers!) and colleagues who have been honest enough to share that they have mixed feelings about it all. 
Some have mentioned that they think they may have agoraphobia whilst others are happily back to commuting into London and socialising inside pubs and restaurants as much as they can.
I regularly see on social media advice on our well-being. I am starting to think that perhaps there is too much advice? 
So I thought I would try and put together a little summary of wellbeing tips, explaining how we can try and nurture all aspects of our well-being this week or even month. 
Nicola Bowker, a recent guest on Island Influencers (a podcast we produce) highlighted something that inspired me to write this blog. 
As of the first lockdown, I have practised mindfulness/meditation, and I like to unwind in a hot bath, read a good book, or listen to a light-hearted podcast! 
However, Nicola reminded me this isn't for everyone; we all wind down/meditate in our own way. Nicola likes hill running and admires the view. 
We work with several financial planners, so I will start with some advice from them as this isn't always top of my list! 
Financial – put some time aside to check in on your finances. 
Staying on top of money admin is something I avoid doing myself. Getting better at it could be just looking at your bank account! 
Other tactics include making a budget (our family food shop has increased so much; lately, I have had to alter the budget line for this!) or even calculating your net worth. 
A tip I got from a local magazine recently, and another Island Influencer guest Stefanie Kerwin, Mental – what do you need right now? 
Sit in silence for at least 10 minutes each day. Avoid distractions from the tv, emails or your phone. 
Do some meditation if you like it, or simply remember to breathe! The point is to take time to reconnect with your thoughts. 
Social – don't succumb to peer pressure. Don't feel like you have to see everyone you haven't in the last year. 
Take control of your diary and your precious free time. 
You don't have to be inside a pub or restaurant. There are plenty of options to ease back in gently. 
What do you really want to do? Who brings you joy? Who do you actually want to hug? 
Forget the obligations. Establish some boundaries. 
Physical – we all know research shows that physical activity has obvious health benefits, but it can also boost your mood and help you manage your stress and anxiety. 
You don't have to be running half marathons twice a week! Just aim to achieve at least 150 minutes of physical activity over a week through various activities you enjoy. 
Take regular breaks and move. Listen to your body, think about what physical activities you enjoy. 
Cultural – art is everywhere, influencing us daily, whether we realise it or not. And this is the mere reason why art is essential in our daily lives. 
Whether it's a painting, music, or even videos, the art we are surrounded by can significantly impact our mood and emotions. 
Pick your favourite song and listen to it – on repeat if that helps! I personally can't wait to get back to the theatre (at a safe distance!). 
Environmental – review your home and space that you spend time in. Do they make you feel good? Think about how you can improve these spaces. 
Occupation – find a book or podcast that is going to expand your knowledge. It doesn't have to be about your job, just a topic you find fascinating. Carve out time in the week for this. 
Pace yourself, know your boundaries and be honest. Share how you are feeling with a friend or colleague. 
Adjusting to constant changes is an incredibly personal experience. 
Stop putting so much pressure on yourself. Just try your best to put yourself and your wellbeing first.
Are there any wellbeing tips you would add to this list? Let us know on social media @bearcontentden.