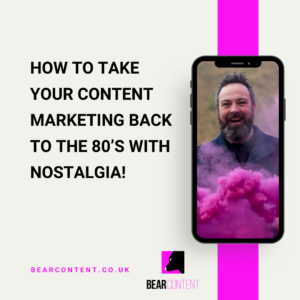 Nostalgia is a powerful emotion.
According to researchers, we experience nostalgia in more or less the same way, regardless of our culture, age or gender.
In recent years, feelings of nostalgia have become more prevalent.
But how can we successfully incorporate nostalgia within our content marketing to drive better results?
What triggers nostalgia?
There are two main drivers behind feelings of nostalgia.
The first is "sensory inputs", pulling you back to a prior experience.
A particular smell or sound might take you back to a memory.
Secondly, psychological triggers can prompt feelings of nostalgia.
Feelings like loneliness, sadness, anxiety or an absence of meaning in life are all inclined to cause us to reflect nostalgically on the past as a coping mechanism.
With that understanding of nostalgia in mind, how we can use it within our marketing?
Why nostalgia marketing works
Nostalgia marketing connects your brand to positive concepts or ideas from the past.
By associating your brand with (positive) nostalgic feelings, you can generate positive feelings for your target audience.
And it works!
One study at Washington State University found that consumers who saw nostalgia-themed adverts rated the advertisement and brand more favourably than those who saw non-nostalgia ads.
In another study, the researchers found that nostalgia made consumers willing to pay more for goods or services.
How to make it work for you
What triggers feelings of nostalgia in your target audience?
Nostalgic memories vary for different generations. After all, our childhoods were likely very different.
Look back at the big themes, events and memories from the development years of your target audience.
For example, assume you are targeting consumers in their 50s today.
Growing up in the 80s, this age group are likely to have experienced movies like The Goonies, cartoons like Duck Tales, music from Bon Jovi, and cars like the Renault 5.
Which movies, cartoons, music and cars were prevalent during the childhoods of your target audience?
Putting nostalgia to work
How do you introduce the feel-good factor of nostalgia into your content marketing?
One subtle approach is to use the #ThrowBackThursday hashtag on social media, sharing photos and other memories from the past.
While you might be treading on dodgy ground to use specific brand names or images in your marketing, there is nothing to stop you from using their typeface, colours, and fashion choices in your campaigns.
Assuming your business has been around for a few years, share memories from those early days to evoke nostalgia with your customers.
And, for newer companies, what about the history of your shop or office building?
Get inspired with these nostalgia marketing examples
Coca-Cola is a frequent user of nostalgia marketing, sharing vintage adverts from their past and invoking familiar feelings through their association of Father Christmas with the soft drink
Nintendo recycled their old games console when they launched the NES Classic Mini Console with its 80s-style graphics and sounds.
Music platform Spotify brought back the original actors from The NeverEnding Story as their spokespeople.
What next?
Recent years have seen a significant increase in nostalgia marketing, as people are looking for ways to connect with their past through content they enjoy.
With this trend on the rise, now more than ever, it's important to think about how you can incorporate nostalgic elements into your content strategy.
If you want help connecting with customers by tapping into what makes them feel good from the past, we're happy to provide insight and direction based on our expertise in digital marketing trends.
Let us know if any of these ideas resonate with you and schedule some time in my calendar for a no-obligation digital marketing strategy call on Zoom, at our expense.