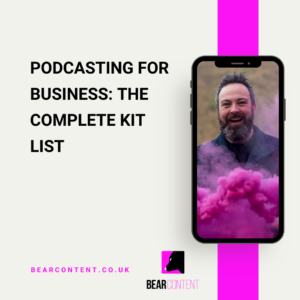 Audio podcasting has a large and growing audience in the UK.
With podcast listeners typically engaged, loyal and affluent, they are the ideal target customer for most small businesses.
Yet relatively few small businesses in the UK are publishing their own podcast on a regular basis.
Something that often scares business owners from producing their own podcast is the technical aspects. Understanding what kit to use (and how it all works!) can be a huge barrier.
After years of extensive and expensive testing, I've settled on what I believe is the best possible setup for small businesses that want to record broadcast-quality audio.
In putting together this kit list, I've balanced the need for sound quality, ease of use and value for money.
This isn't the cheapest podcasting kit you can buy – but it's by no means the most expensive either. It's all equipment I personally own and use daily, so I can attest to its quality and reliability.
Audio interface
If you're recording your podcasts in your office or carrying out interviews over Zoom, then you will need an audio interface. This is the box that sits between your PC or Mac and your microphone.
My recommendation here is the Focusrite Scarlett 8i6. This retails for £249 and is currently selling on Amazon for £229.
It offers two XLR microphone inputs and two headphone jacks, so you can have up to two hosts (or a host and a guest) sitting together recording, or you can have up to two hosts recording remotely with a guest on Zoom or another video calling platform.
If you plan to be a solo podcast host, carrying out any interviews over Zoom, you can buy the cheaper Focusrite Scarlett Solo instead.
Focusrite units plug into your PC or Mac via a USB cable. They have got really 'clean' pre-amps built-in, so no hiss or crackle to worry about when you're recording.
And the controls are straightforward; a gain dial for each microphone lights up green when you're talking or red when the sound is too loud. There are volume dials for each set of headphones too.
Using this setup, you would record straight into some free software on your laptop, PC or Mac.
Microphones
My recommendation for microphones is the Audio-Technica BPHS1 Broadcast Series Headset. These are £156 each on Amazon.
Why a headset and not a standalone microphone?
In my experience, one of the most significant variables when it comes to recording audio is the microphone technique. For inexperienced podcast guests (or hosts!), using a headset means they keep their mouths a fixed distance from the microphone at all times.
It's also less intimidating to present a guest with a headset to use than putting them behind a giant microphone.
The Audio-Technica headset is a dynamic microphone, so it does a great job of cutting out ambient room noise. This means you can still achieve great quality recordings in an ordinary office environment. You don't need to go to the expense of sound treating a room before you record.
Field recorder
My final bit of recommended podcasting equipment is the Zoom H6 field recorder.
You can plug up to four Audio-Technica headsets into this, making it perfect for roundtable discussions. It also comes with its own microphone capsules so that you can capture room sound at seminars or meetings.
If you're going to use this with more than one of the headsets, you will also need a low-cost headphone amp.
You only need to get a Zoom if you're a) recording your podcast episodes 'on the road' or b) you want to include more than two people physically on location for the recording.
In either case, you could bring your Focusrite out of the office, along with a laptop, or upgrade to the Focusrite Scarlett 18i8 with its four microphone inputs.
But the Zoom H6 plus up to four headsets (and the headphone amp) is a portable kit that you could put in a bag and take to different venues.
Final thoughts
With less than £1,000, you can buy all of this kit which will give you broadcast-quality audio in a range of different configurations.
You can also use the same kit when having video calls with clients or hosting educational webinars.
The technical aspects should not be a barrier to recording and publishing your podcast.
Do get in touch if you would like to launch your podcast in 2022.