We're often asked by our clients about our recommended video kit for creating content.
Producing high-quality video content is an exceptionally powerful way to engage with new and existing clients.
Video is a highly authentic medium, offering the ability to connect with prospective clients on a level that the written word simply does not allow.
You can start capturing and creating video content with your existing smartphone. However, an investment in the following kit list will elevate the quality of your video content above the competition.
Whether you are creating content for your website, social media or YouTube, the following video kit list will get the job done.
All of the following items are in daily use in the Bear Content team, so we know they work as intended!
The camera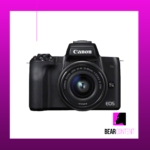 As a keen photographer, I've owned and used a wide range of cameras in the past 20 years. I'm a Nikon fanboi when it comes to photography, but made the switch to Canon for video production.
My recommended camera for video creation is the Canon EOS M50.
This compact mirrorless camera comes as standard with a 15-45 mm lens and offers several features I've been unable to find in other cameras at this price point.
The Canon M50 shoots 4k (incredibly high resolution) video. It has a flip-out screen; essential for ensuring you are in frame and in focus.
The camera also sports an external mic plugin point, so you can capture the best quality audio through a separate microphone – more on this next!
Audio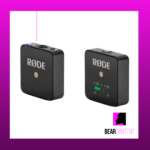 Getting the best possible sounding audio for your videos is often overlooked. Viewers will forgive poor picture quality but are unlikely to keep watching your videos for long if the sound quality is defective.
What you must never do is rely on the onboard microphone that comes with your camera. Instead, mic yourself up with the Rode Wireless GO compact microphone system.
The wireless receiver sits on your camera hot shoe and plugs into the external mic input. The transmitter (which includes a microphone) clips onto your collar.
In simple terms, the closer you can be to your microphone, the better the sound quality.
Tripods
While viewers might forgive poor video if you offer excellent audio, there's no reason to ignore the quality of your video production.
For static shots, always place the camera on a tripod. We love the Manfrotto tripod for this.
To add some more interesting elements to your videos, smooth movement is great. We capture beautiful cinematic gliding shots with the DJI Ronin SC.
Lighting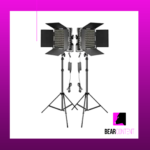 You can turn a good camera into a great camera with the right lighting.
The free option here is to make sure you are facing a window as you film, to take advantage of natural (daylight) lighting. However, it can be challenging to get consistency, especially on bright days.
If you want to keep your lighting simple, buy a ring light and mount the camera in the centre. This 14″ ring light is very effective and gives your eyes a nice circular light reflection, which looks great on camera.
A slightly more expensive option is a pair of LED light panels. These come with batteries that last for around 3 hours before they need charging.
Editing
Here at Bear Content, we edit video on an iMac running Final Cut Pro X.
An alternative to investing in powerful computers and expensive editing software is to film your content in-house, and then share the files with us via Dropbox (or courier a portable hard drive to our office) so we can edit for you.
Another part of the editing process, which we also handle on behalf of our clients, is cutting longer videos into shorter clips suitable for social media sharing.
Our favourite app for this work is Headliner, which also adds a transcript and titles to your clips, making them incredibly engaging on social media.
***
Do you have any questions about the video kit you need to create compelling content?
Fancy working with us to create engaging video content for your website and social media?
Do get in touch and we can have a chat over Zoom to find out more about how we can help.