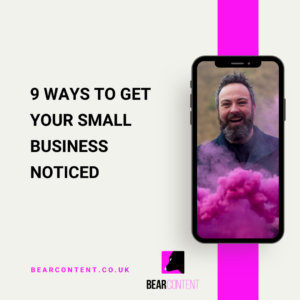 If you're a small business owner, you know that getting noticed in a competitive marketplace can be challenging.
But don't worry – there are plenty of unconventional marketing ideas that you can use to get your business seen and heard.
This blog post will share nine different ideas (with examples) for getting your small business more visibility. So read on to learn more!
But first, what is unconventional marketing?
These tactics are designed to provoke interest in your brand, raise awareness and create publicity.
Unconventional marketing tactics are not for the faint-hearted. It's meant to be bold, thought-provoking, and a little outside of the conventional box.
When deploying these unconventional marketing ideas for your small business, you want to cause surprise and delight with your target audience.
1 – Event Ambush Marketing
This marketing idea starts with an existing audience, ideally aligned to the target audience for your small business.
Perhaps your perfect customers are attending a concert, sporting event or local show.
You could put up signage at an event, suggesting you're a sponsor (when you're not), or organise a flash mob to deliver a short performance before dispersing into the crowd.
Keep in mind that you are likely to upset the event organiser and official sponsors with event ambush marketing if you carry out this guerrilla marketing without their permission.
Gambling website Paddy Power always sails close to the wind with their marketing, and a billboard poster campaign during the London 2012 Olympics was no exception.
Paddy Power put up adverts claiming to be: "Official sponsor of the largest athletics event in London this year! There you go, we said it".
Of course, they weren't official Olympic sponsors but instead sponsored an egg and spoon race in London, France.
2 – Astroturfing
Astroturfing is the name for paid endorsements.
This can be a potent form of unconventional marketing because it creates a shortcut for social proof.
Examples of astroturfing include paying for product or service reviews (we don't recommend this, most review websites have sophisticated algorithms to detect fake reviews) or lining up pretend customers for your launch.
A more ethical approach to astroturfing is paying for influencer marketing, with the necessary #ad disclaimers in place.
3 – Buzz marketing
The astroturfing idea continues, using actual or celebrity customers to create a buzz around your product or service.
Buzz marketing is designed to get more people talking about you and what you do.
The best way to get this buzz going is to ask!
Even a selfie with a celebrity customer can elevate the perception of your brand.
And you don't need a celebrity to create a buzz; micro-influencers on social media can make a tweet or post go viral if it captures the zeitgeist.
OK, this one is way out of the small business marketing budget, but we love it regardless.
When Amazon founder Jeff Bezos joined the billionaire's private space race with his Blue Origin project, he invited actor William Shatner to join him for the flight.
Shatner played the role of Captain James T Kirk in Star Trek, in the original TV series and seven of the movies. He had long wanted to travel to space.
Adding Captain Kirk to the Blue Origin flight manifest was a stroke of genius, making Shatner the oldest person to have flown into space.
4 – Experiential Marketing
How can you get prospective customers to give your product or service a go?
Hands-on experiences are trendy right now, in the wake of pandemic restrictions and with so much pent-up desire to get out of the house.
Offer your target audience a genuinely risk-free opportunity to experience part of what you offer, preferably having some fun in the process.
As a fan of Swedish meatballs (and tiny yellow pencils), I love this example from Ikea.
The haven for flat pack furniture responded to a customer fan group on Facebook called "I wanna have a sleepover in Ikea" by giving 100 of the 100,000 members the chance to do just that.
The winners were given manicures, massages, and a bedtime story.
5 – Ambient marketing
This unconventional marketing idea uses an existing item or environment to incorporate your brand message.
You're looking here for something already part of everyday life that you can adapt to surprise your target audience.
Advertising as part of ambient marketing should be in an unusual or unexpected place to attract attention.
The more attention your ambient marketing attracts, the better. Attention-grabbing advertising is more likely to be shared or even go viral.
Do you remember when a 50-ft high rubber duck made its way down the River Thames through central London?
The publicity stunt was designed to promote the online bingo website Jackpotjoy and the launch of their Facebook FUNdation, encouraging customers to have more fun.
This example of ambient marketing worked exceptionally well because it created some fantastic photo opportunities.
6 – Hidden marketing
When is marketing not marketing?
Well-executed hidden marketing should leave the audience feeling they haven't been exposed to a marketing campaign.
You're not trying to create a sale with hidden marketing but to provoke emotions such as excitement or interest.
Hidden marketing is likely to be one tactic within a broader marketing campaign, perhaps at the early stages, to start building a level of interest in your product or service before it is launched.
7 – Street art
Please watch the legalities on this one!
Street art as an unconventional marketing tactic should be delivered in a non-destructive way.
We've seen examples of unconventional marketing street art that uses a pressure washer to 'paint' a logo in the grime of a pavement or uses chalk that washes away in the rain.
You could even get permission from a building owner to have a dramatic art installation installed on a wall or in a window.
8 – Vending machines and food truck marketing
If you have a food or drink business (and we know plenty of those in the Surrey Hills!), consider bringing your products to a distinct location.
You could hire and brand a vending machine, locate it for a day in a high-traffic area, and dispense free samples.
Or do the same with a food truck.
Exclusivity and limited availability are your friends here if your goal is to get the publicity stunt trending on social media.
Coca-Cola's Happiness Machine, a vending machine dispensing surprising doses of happiness to unsuspecting college students, became a viral YouTube sensation.
Over two days of hidden camera filming, Coca-Cola captured a series of spontaneous reactions condensed into a two-minute video that racked up millions of views.
9 – Unique business cards
Business cards don't need to be boring.
Depending on the nature of your business, you can apply a great deal of creativity to your business card design.
If you're a carpenter, make a business card out of wood, with your details CNC engraved.
Divorce lawyers could have a business card with a tear strip down the middle, featuring their contact details on both sides of the dividing line.
Gardeners might turn their business cards into a seed packet, complete with instructions for planting and growing.
I'm a particular fan of this example from a personal trainer, a business card printed on an elastic exercise band.
***
So there you have it! Nine different unconventional marketing ideas to help get your small business more visibility.
Now it's time to choose one or two and put them into action.
Remember, the key is to be creative, original, and daring. And most importantly, have fun with it!
What unconventional marketing ideas will you execute to grab attention?