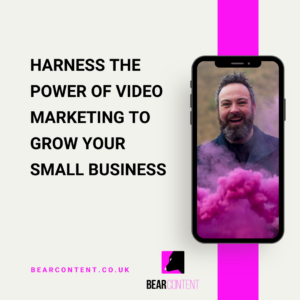 Are you looking for a way to grow your small business? Video marketing should be on your list.
Video marketing is a powerful way to reach more customers and grow your business.
This post will discuss how you can use video marketing to grow your small business. Stay tuned!
1 – Your plan of action
Before choosing a camera, before writing a script, and before pressing that record button, you need a plan.
Time spent planning your video content will ultimately result in significantly better quality at the end of the process.
Have a clear objective for each video you plan to produce.
Think about the value your video offers to your target audience and why they should watch your video instead of one from a competitor.
2 – Tell a story
Humans are hardwired to listen to stories.
The science behind storytelling is simple; we've been telling stories for as long as there has been a language to speak.
Our brains think and remember in the form of stories.
If you can weave your video narrative into a story format, each video you produce will likely be more engaging and compelling for your audience to watch.
Great storytelling starts with the planning stage. The more time you spend planning your video, the better the results.
3 – KISS
A colleague told me off the other day for saying KISS – Keep It Simple, Stupid. Instead, we've agreed I should say (from now on) Keep It Simple, Sweetheart.
For video content, perhaps that should be Keep It Short, Sweetheart.
A 2019 study from the Technical University of Denmark found that collective global attention span is narrowing because we are presented with an exponentially growing amount of information.
With more competing for our limited attention, you would be well-advised to make your video content short.
The ideal length for your video is as long as you need to get the message across to your target audience.
But keep in mind that some of the most successful brands can get their memorable messages across within the time constraint of a 30-second Super Bowl commercial.
As Mark Twain famously said: "I apologize for such a long letter – I didn't have time to write a short one."
Time spent planning will help reduce the time you need to get your key message across in video.
4 – Promote your video EVERYWHERE
Once produced, don't fall into the common trap of pressing publish and then believing your job is done.
It's just getting started.
If a video is uploaded to YouTube and nobody watches it, is it worth the effort? Probably not.
We're spoilt for choice regarding video sharing platforms, including all of the usual suspects on social media.
While your full-length video might not be suited to some social media channels, which all have different time limits, nothing is stopping you from repurposing a longer video into shorter segments designed for each platform.
Share, share and then share your video again. And then share it some more.
And don't fear bringing older video content back to life by sharing it again in the future.
***
I've shared four steps to consider when using video content for your small business marketing in this blog post.
If you haven't started using videos as part of your digital marketing strategy yet, now is the time to make it happen!
The key is to plan thoroughly and weave storytelling into each video production. Keep your videos short, so people pay attention and share them everywhere potential customers see them.
Now that you know how important videos are for modern-day marketing, what type of video content will you add to your mix?